This is a proper hat. Still, I hope to find somewhere a black teardrop sinamay with thick black tulle fascinator, something like the one worn by model Sister Sinister in the cropped photo below, but without the white (charcoal grey might do, or a dark plum, or, depending on my mood, cobalt blue or black rose), and with thicker tulle (although I guess I could wear shades for more eye UV protection, and the nice parasol such as is pictured in the second photo below would also help).
Instructions for making such hats can be found
here
.
A nice parasol to go with this hat would be something like this: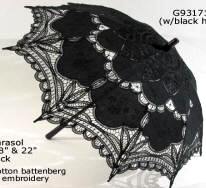 This parasol can be ordered from
Costumes of Nashua
.